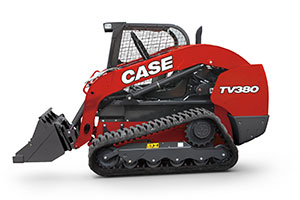 These are the same durable, versatile, comfortable loaders that already deliver class-leading performance on farms and jobsites everywhere—Now with a more powerful look to match!

These days, companies just don't last like they used to, so it's almost unheard of to celebrate 175 years of making quality, hard-working products.  The rich design, manufacturing and support heritage of Case products has stood the test of time since 1852 and it seems only right that we're doing something special to commemorate this milestone.
For the first time ever, Case is building a very limited number of the venerable Case skid steer and compact track loader and painting them in rich Case IH red right at the factory.  These are the same high-performing machines working on farms and jobsites every day around the country, but with the deep red Case IH color that pays homage to a long history of building equipment that has revolutionized agriculture and helped feed the world.  There's one machine being built for each of Case's 175 years and Titan Machinery has reserved 100 of them for our customers in our two most popular selling models, in a variety of configurations:

Case SV280 wheeled skid steer

Case TV380 compact track loader

Don't miss out on this once-in-175-years opportunity!  Fill-out the form on this page to see full machine specs, to request that one of our trained sales professionals contact you, or to reserve one of these special machines today.